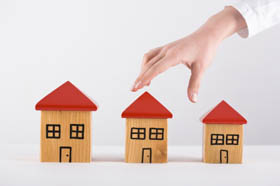 Many people find themselves wanting more space at home or needing to change their address for whatever reason. In this situation, homeowners are trying to sell their current home while they look to buy a move-up home. Timing is everything, and this is where Horizon Properties, Inc. will be invaluable in helping you to know what your options are before making any final decisions. You do not want to end up with two homes or homeless!
The first, and most important thing to do, is to get your current home in tip-top shape for the selling market. It is difficult to get qualified for two mortgages – even more so in a slow market. The ideal situation will be for your REALTOR® from Horizon Properties, Inc. to make sure you have a good contingency contract that assures you both things happen simultaneously!
Whether you qualify for two mortgages or not, your current home needs to be ready to sell. Meet with a REALTOR® from Horizon Properties, Inc. and get a current value on your home. It is also a good idea to have the condition of the home checked by a professional and make any needed improvements or renovations. The transition of selling one home and buying another can be overwhelming, and it is important to contact one of the agents at Horizon Properties, Inc. immediately when you are ready to move forward.